Announcement of the Parade Grand Marshal
March 17, 2016 @ 10:00 am

-

March 13, 2017 @ 10:05 am
Announcement of the Parade Grand Marshal  of the 2016 Brussels Saint Patrick's Day Parade of the Nations & Regions
Ms. Mary Jo Mullarkey has been nominated as Parade Grand Marshal of the 8th. Saint Patrick's Day Parade of the Nations & Regions in Brussels, Capital of Flanders,
Belgium and the European Union. It is mainly in recognition of her personal contribution to the work of the Irish in Europe Association and of the organising the Brussels Saint Patrick's Day Parade since its inception in 2009.
She is the first ever female to be appointed Grand Marshal.
Born in Manchester, of Sligo parents who returned to Ireland, Mary-Jo had the benefit of dedicated educators in Longford and Carrick-on-Shannon which brought her into teaching. Private industry in Dublin and London followed, including some years in Industrial Relations, breaking new ground for women in this sector. The EU then proved irresistible which brought her to new experiences in Luxembourg and Brussels.
The morning of Sunday 15th March 2009 was clear and chilly in the Parc du Cinquantenaire in Brussels. The Irish Tricolour came slowly into view accompanied by pipe music. This heralded the approach of the first St Patrick's Day Parade of Brussels, a welcome sight for the small team of volunteers who had worked tirelessly for months to bring to Brussels this national cultural event, celebrated annually around the world. Since Mary-Jo first answered the call in 2008 for volunteers to start a Saint Patrick's Day Parade in Brussels, she has been consistent in her efforts to bring to fruition the Parade project and the establishment of a Pan-European Association to support the Irish Diaspora and promote Irish culture as a means of integration in Europe at local chapter level. Her slogan: "get the show on the road; keep the show on the road". The initial volunteer effort involved intellectual, mental, physical and financial input after many failed attempts by other persons and organisations in the previous 16 years to have a Parade in Brussels. The sight of so many people wearing the Brussels-sourced tricolour sashes completed the sense of accomplishment in holding the city's first Saint Patrick's Day Parade in 2009 – one year ahead of Cuba! Since then, despite many obstacles, Mary-Jo has persevered in helping to organise and publicise this annual event which she considers to be a very important statement of Irish culture, enjoyed by nationalities throughout the world. In 2011, Mary-Jo became a founder member of the Irish in Europe Association (International) aisbl. She has represented the Irish in Europe at many local, national and international meetings and events. She has personally manned numerous Irish in Europe tourism, cultural and information stands and has collaborated in organising many cultural fusion projects. She has played a key role in setting up the Irish in Europe Cultural Exchange Programme which has resulted in over 1.2 million viewers of Irish in Europe Exhibitions.
Mary-Jo's volunteer efforts began some years prior to the Parade initiative. On retiring from the European Parliament staff, she chose to live in Ashford in Kent, which provided easy Eurostar links to Brussels when necessary. Ashford was subsequently dropped from the itinerary which led to the creation of a "Save Ashford- Brussels" campaign by the incensed residents of Kent and south-east England. After eighteen months of intense lobbying through press, radio and television, the campaigners achieved the restoration of a token Eurostar service which was still not adequate for the regular users. Brussels beckoned once again and Mary-Jo chose the EU capital over the Garden of England.
Brussels proved to be the perfect location also for Mary-Jo's environmental interests. She has been active in the 'No Fracking' campaign to keep Ireland, the UK and the planet free from hydraulic fracturing. It is her view that hydraulic fracturing is the most serious threat to human and animal health and environmental welfare.
She remains fully committed to the Irish Abroad and their having the right to vote in elections in Ireland. She also plays an active role on issues facing Irish Emigrants and those returning to Ireland such as access to affordable accommodation, healthcare and the urgency to deal with homelessness in Ireland.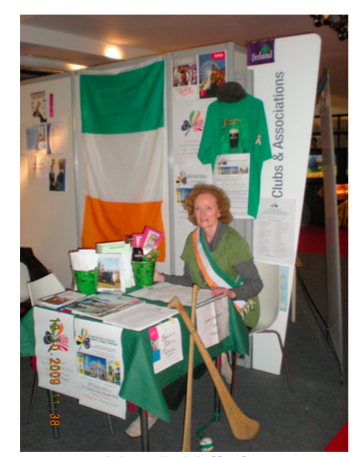 Mary Jo Mullarkey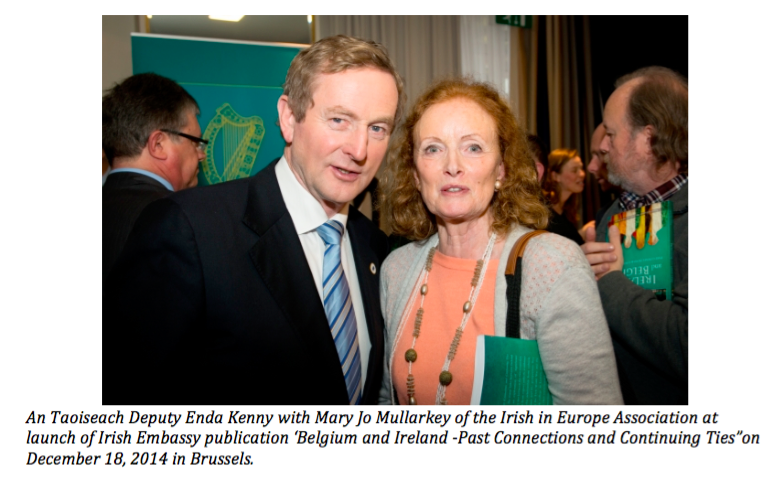 While Mary Jo is not an ambassador in the "diplomatic" sense, she has all the qualities to make a great one. She has worked and volunteered tirelessly as a full-time volunteer over a six-year period for the Irish in Europe Association and the Saint Patrick's Day Committee since its inception. She has "moved mountains" on certain occasions to get the desired result. She has always displayed not only fantastic organisational skills and diplomacy but also good humour and kindness in her dealings with all people. She takes pride in her work and is passionate about many worthwhile causes. She is true to her native country but has also embraced the country in which she now lives.
In honouring Mary Jo Mullarkey, we not only recognise her but all the volunteers of all nationalities who have given their time generously in helping to promote Irish identity, culture, integration and helping Ireland in Europe since 2008 during the worst financial crisis in Ireland since 1929.
2016 marks the 100nth anniversary of the 1916 Revolution; this is the time as we nominate our first female Grand Marshal in Brussels 100 years later to also remember all those brave and courageous women who helped Ireland achieve its independence. The time to recognise the invaluable role played by women in Ireland in its evolution as a democracy and also remember and recognise all those Irish women emigrants that contributed greatly to the social, economic and cultural life in the countries of their adoption. Mary Jo Mullarkey is but one of these many women and truly an Irish Patriot living and working for Ireland in the modern day sense.
As Parade Grand Marshal, Mary Jo Mullarkey will carry, as a mark of her authority, the "Rathmullan Bō Staff" (history of staff: https://sites.google.com/site/thebrusselsstpatricksdayparade/Home/rathmullan-sea- side-village/parade-rathmullan-bo-staff), which was cut from wood growing on the hills overlooking Rathmullan Harbour in County Donegal in Ireland. This will symbolise the Flight of the Earls in 1607, the foundation of the Irish College in Leuven and the beginning of mass Irish emigration that lasted over four centuries, the result of which is a world-wide Irish Diaspora of over 70 million people today. The "Bō Staff" symbolises the historical relations between Ireland and Belgium and the struggle of all emigrants and missionaries who left Ireland, overcoming adversity and hardship in true pioneering spirit that reflects the courage and perseverance of the Irish people throughout the centuries up to the present day.